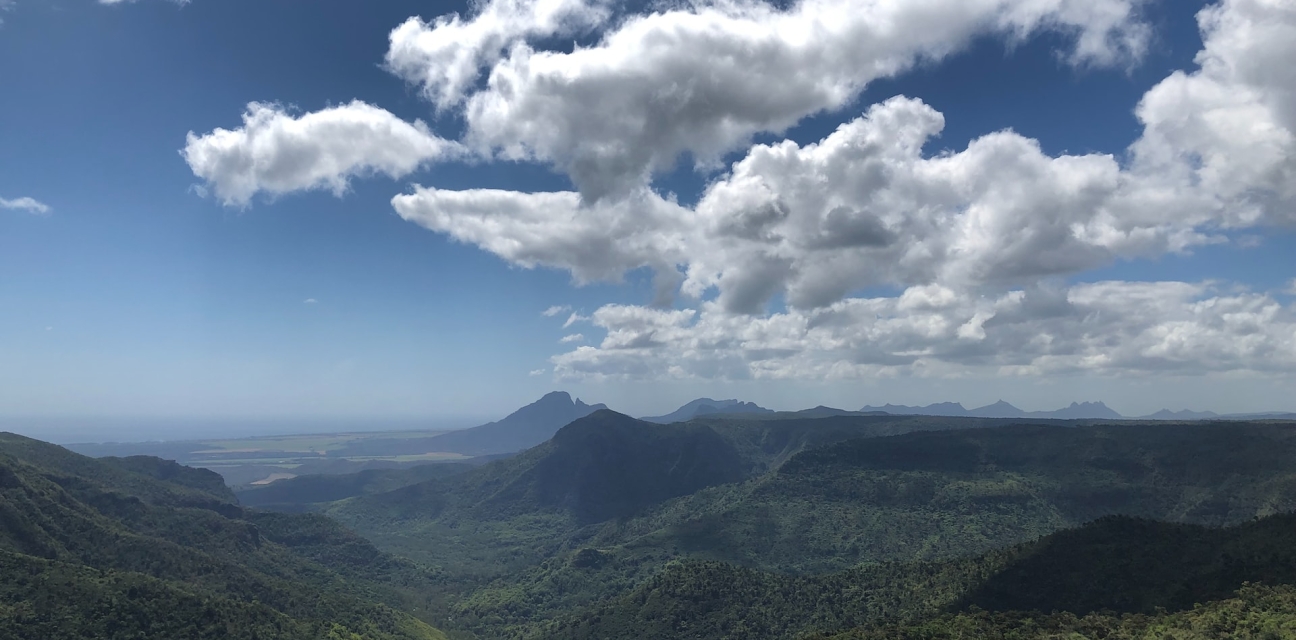 Mauritius is situated in the Indian Ocean, approximately 2400 kilometres off the South East Coast of Africa. It has a surface area of 720 square miles, situated just above the Tropic of Capricorn, in the south of Indian Ocean, with 57° 35 East longitute and 19° 68 and 20° 15 South latitude. Being of a volcanic origin, Mauritius has a central plateau which is about 400 metres above sea level.
The island, which is of volcanic origin, covers an area of 1,865 square kilometres or 720 square miles. Coral reefs surround most of the coast except the south.
Mountains scattered throughout the island, tropical forests and plants are other feathers that add to the natural beauty of the island. With more than 90 miles of white sandy beaches and the transparent lagoon are protected from the open sea by the world's third largest coral reef which almost surrounds the island.
On the whole, our climate is fairly acceptable to everybody
The average temperature during day time is 25° C
(75° F) and rarely under 13° C (62° F) at night.
There are two seasons.
Hot from November to April.
Warm from May to October
The temperature ranges are:
Summer (November to April): 27° C (80° F) on the Coast to 23° C (73° F) on the Central Plateau.
Winter (May to October): 21° C (70° F) on the Coast to 17° C (63° F) on the Central Plateau.
Hours of Daylight approx. from 5 a.m. to 7 p.m. in Summer and from 7 a.m. to 5 p.m. in Winter.
July is the Coolest Month 22° C (71° F).
February is the Warmest Month 28° C (83° F).
Heavy Rainfalls likely between January and March.

Weather Station, Curepipe, Mauritius
The only snag is that the warm season can be disturbed by the passage of cyclones.
Tropical Cyclones: As much as we would like you to enjoy our comparatively "cool, dry and warm" climate,
we would at the same time like to mention the existence of Tropical Cyclones in our vicinity.
But there is no cause for alarm. We would not want you to feel "depressed" at these "tropical depressions".
Weather sufficiently severe to cause a great deal to damage in the island has occurred on a total of only about a Dozen Days in Ninety Years. But being an Act of God (God bless us!) we cannot do anything about it.
To name but a few: Carol 1960, Jenny 1962, and Gervaise 1975.
Unpredictable weather
The most violent cyclone (Carol) ever recorded in Mauritius occurred on the 28th February 1960. Wind from the south-east exceeded 140 m.p.h. in gusts just before the "central eye" of the storm gave Three hours of perfectly calm sunny weather, which was immediately followed by winds of "almost equal strength from the North-West".
However, the chances of your meeting with really cyclonic weather during a trip to Mauritius are slim but, believe me, such an experience is one to be remembered! Tropical cyclones pass near enough to Mauritiusto give on the average only about four days per year of the windy and rainy weather which is much more frequent in temperate latitudes.